Certified
American Board of Wound Management
Member
Wound Ostomy and Continence Nurses Society
Licensed
California board of registered nursing
Accredited
Certified Women-Owned Business
Member
NNBA
We believe everyone should be able to relieve the pressure
Jewell Nursing Solutions knows how difficult it is to stop pressure injuries. We offer a range of honestly helpful solutions
so that you and the people you care for can get relief from the pain of bedsores & pressure wounds.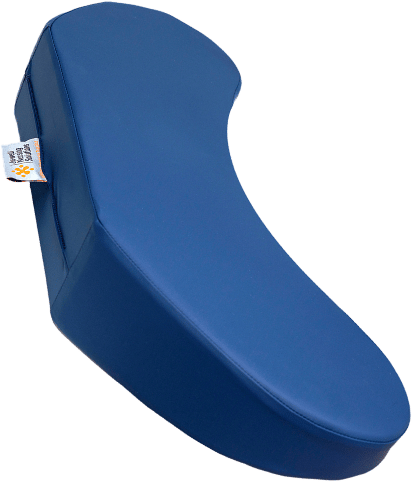 Inspired by a hospital wound care nurse who wanted to use support devices that genuinely work. Our patented cushions are designed to provide "just right" lift and cradled support while circumventing pressure points.
Pressure Injury Education & Training
Coming soon! Our courses are the only pressure injury training tailored to meet the specific needs of the individual caregiving environment from home to the skilled nursing facility to the acute care hospital. CEU's available.
Caregiver Support Services
Sometimes all you need is a straight, honest answer from a nurse that knows what she/he is talking about. Stop putting up with the run-around from your healthcare provider and schedule an appointment with us today.
Contoured BackBone™ shape circumvents sensitive pressure points
Patented bilateral angled design for precise 30-degree lift
Our Bedsore Rescue cushions are designed by a woundcare nurse to support the most effective and long-lasting pressure reduction position. Their unique shape and design provide gentle cradled comfort and pain relief for people at risk for or suffering from sacral/coccyx, hip, or spinal column bedsores.
For Patients
Unique contoured shape designed to support the entire torso without touching back or hip wounds. Gentle, even support provides "just enough" lift to relieve pressure points without pressuring shoulders. The result is long-lasting pressure relief and soothing, stable support.
For Caregivers
Finally, a support wedge that works! No more going back into the room to repeat the work you already did to re-set slipped wedges or flat pillows. Easy to place, reliable, and re-usable. Saves time, less work, and comfortable patients.
For Healthcare Facilities
The only 30-degree lateral positioning cushion designed to meet all standards for patient positioning, infection control, and patient safety. Net costs are a fraction of wasteful and ineffective disposables. Increase patient satisfaction, caregiver compliance, and lower HAPI's.
State of the Art Hospital Grade Quality
Waterproof, vapor-permeable, antimicrobial
Single patient or multi patient use
Effective support for any care environment. (Acute Care, Skilled Nursing, Home Care)
Satisfaction Guaranteed Or your money back!
Testimonials
No better evidence than the real-life, best practices results of unbiased and experienced caregivers and patients. We are proud that Bedsore Rescue positioning cushions have the highest satisfaction rate in the industry. The Bedsore Rescue Cushion is the "Best in Class" with 95% positive results reported by caregivers. And it's the ONLY support cushion endorsed by patients to be the most comfortable and pain-relieving support they have ever used.
Pressure Injury Education
Let's face it! Stopping pressure injuries is never as easy as it's made out to be. You need so much more than 2-page lists and 4-minute youtube videos. Jewell Nursing Solutions is committed to bringing effective pressure injury prevention training to the entire caregiving community. Learn exactly what you need to do, how to do it, which products to buy and how to use them. Training written for all caregiver skill levels in all environments.
Resources
How to Stop Bedsores
This course covers the fundamentals for any caregiver skill level.
Includes universals do's and don'ts, methods, equipment, and the supplies everyone should know. Free with proof of purchase of any Jewell Nursing Solutions products.
Coming soon!
Learn Relief
Pressure Injury Prevention Certification (PIP-C™)
The most comprehensive pressure injury prevention education & training for facility and homecare-based caregivers. Designed for facilities struggling with pressure injury prevention, caregiver lift injury, and appropriate supplies and equipment use issues. The only training course to instruct caregivers on how to manage workflow and process issues and complications associated with safe patient handling during pressure injury prevention care. If you need to improve your outcomes and lower your costs, your caregivers need this course!
Coming soon!
Become PIP Certified
Pressure Injury Woundcare Fundamentals (Coming Soon!)
Pressure injury wound care is even more tricky than other wound care. Every wound is different, and requires different care at different times. Learn the basics about how to evaluate the wound and recommendations for care. Includes second opinion services. CEU's included.
Coming soon!
Learn More
Our Blog
Visit our blog to learn more about pressure ulcers, how to treat them, and take a deep-dive into the products we've designed to prevent them.
4 Myths about Turning and Repositioning for Pressure Ulcer Prevention
"Beware of the half-truth. You may have gotten hold of the wrong half" We don't call them Pressure Injuries for nothing. Complex as they can be in both etiology and…
Is the Bedsore Rescue Cushion a Medical Device ?
Many people have asked me if it is 'legal' to ask the hospital/skilled nursing facility/care home where my loved one is staying to use the Bedsore Rescue Backbone Positioning Cushion?…
Toronto Areas Largest Hospital Network Invests in Pressure Injury Prevention Cushion
Canadian hospitals in the Toronto area are stepping up their commitment to stop pressure injuries.Jewell Nursing Solutions and Plexxus Shared Service Organization of Toronto have secured a purchasing agreement for…